Longyearbyen 78º N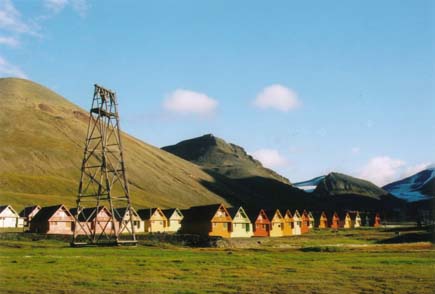 Colorful Longyearbyen
This means 'Longyear's village'.
Businessman John Munro Longyear came with a cruise to Adventfjorden. This happened in 1901. He heard of the coalfields and bought them, together with his American compatriot Frederick Ayer.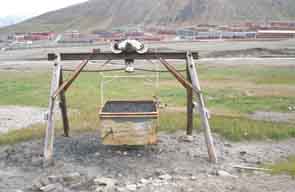 Longyearbyen with a population of 2200 people is the capital and oldest settlement of the archipelago. Here you will find the airport, the Sysselmann, the university, a church, a cemetery, a shopping mall, some restaurants, hotels and worlds northernmost campingsite.
Cruise-ships from all over the world visit this place for a day, so the passengers can say that they have been on Spitsbergen.
Tourism is one of the main industries and it is still growing. You will find fossils and beautiful clothes made of fur, which are very popular with the cruise-ship-passengers.
Just around Longyearbyen you are allowed to walk unarmed, because of the activity in and around the city, most Polar-bears stay away.
If you choose not to use a service provided by a registered tour operator in Svalbard you are categorized as being an "individual traveler". In this case you must notify the Governor yourself if you are planning to visit an area of Svalbard where such notification is required. Individual travelers must themselves be able to cover expenses incurred in case of a search-and-rescue operation. Each individual traveler is therefore required to present proof either of having arranged a specific search-and-rescue insurance, or of having arranged a bank guarantee that will make the necessary funds available in case of an accident. The Governor determines in each case the amount to be covered by such an insurance or bank guarantee.
The Sysselmann is the governor of Spitsbergen. He/she has to see to it that Norway's rights and responsibilities, according to the Svalbard Treaty, are upheld. The Governor is the highest legal authority in all of Svalbard.
Cultural Heritage

Mining Heritage